Appr. 45 pieces
Baklava (in Azerbaijani it is Pakhlava) is a sweet of pastry, nuts and honey popular across the Caucasus, Middle East and eastern Mediterranean. Azerbaijani cuisine has several varieties of Paklava. Baku Paklava is traditionally served at the Novruz spring holiday, together with shekerbura and gogal, but is also enjoyed throughout the year.
Dough:
30 g yeast
1 egg
500 ml milk
800-1000 g wheat flour
200 g melted butter
150 ml additionally milk
A pinch of salt
Filling:
500 g walnut kernels (you can use also almonds or hazelnuts)
500 g sugar
10 g cardamom
Syrup:
1 cup = 220 ml
1 cup water
1 cup sugar
1-2 tbsp. honey
1 tsp. fresh lemon juice
a few threads of saffron
Additionally:
400 gr melted butter
To coating:
1 egg
1-2 tbsp. saffron infusion
Baking time: 20 + 10 minutes
Baking temperature: 200 degrees Celsius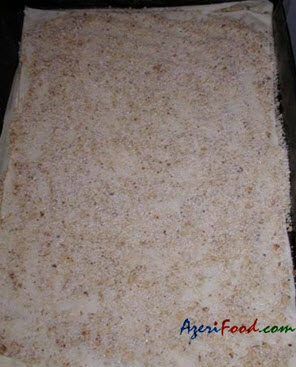 You should first begin prepare the walnuts for the filing. You can do it 1 day before you will cook Paklava. Remove the skin from the walnuts or almonds by heating them in a frying pan or in the oven (app. 200 gr C), then, while they are warm, placing inside a clean tea-cloth and rubbing, but not too hard. If there are still skin, try to remove it with a knife. Please pay attention, that walnuts should be warm, else the skin will not be removed. So if you have many walnuts, fry them in small parts. Let it be chilled. Crumble the skinned nuts and mix with the sugar.
Warm the milk to 30-35 degrees Celsius, add the yeast and dissolve them in the milk. Add 1 tbsp. sugar, a pinch of salt and app. 13 tbsp. (±1 tbsp.) flour and mix it well. Let it rise for 30 minutes. Remember to mix it 1-2 times.
Take the butter and melt it. Add 150 ml milk to the butter.
Sieve the part of the flour into a large bowl and make a hole in the center. Pour the yeast-milk mix, butter-milk mix and egg into the hole and gradually fold in the flour from the outside. Knead well until the dough is smooth and soft.  Cover with a clean tea-cloth and leave in a warm place to rise for 30 to 45 minutes (no longer!)
While the dough is rising, prepare the filling. Take mixed walnuts and sugar and add cardamom. Mix very well.
Take the risen dough and divide it to 13 equal 13 balls (11 of them – one for each layer of the Paklava). Take 2 last balls and merge them to 1 big ball. Now you can begin to toll out the dough.
Take the small balls one after another and roll them out until the pastry is very thin, 0.5 mm thick (like a filo dough).
Place a layer of pastry in the base, making sure it covers the base completely. Brush with melted butter and place another layer on top. Brush with melted butter the second layer too (the base of the Paklava needs to be thicker than the rest). Spread the filling over the second layer, 2-3 mm thick.
Place another layer on top, brush with melted butter and cover with filling. Continue until all small balls are rolled out. Take the last big ball and roll it out a little bit thick and cover the last layer with this layer.  Cut into diamond (rhombus) shapes, 10×4 cm, before cooking. Coat the surface with egg yolk mixed with saffron infusion. Place half a walnut or almond in the centre of each diamond.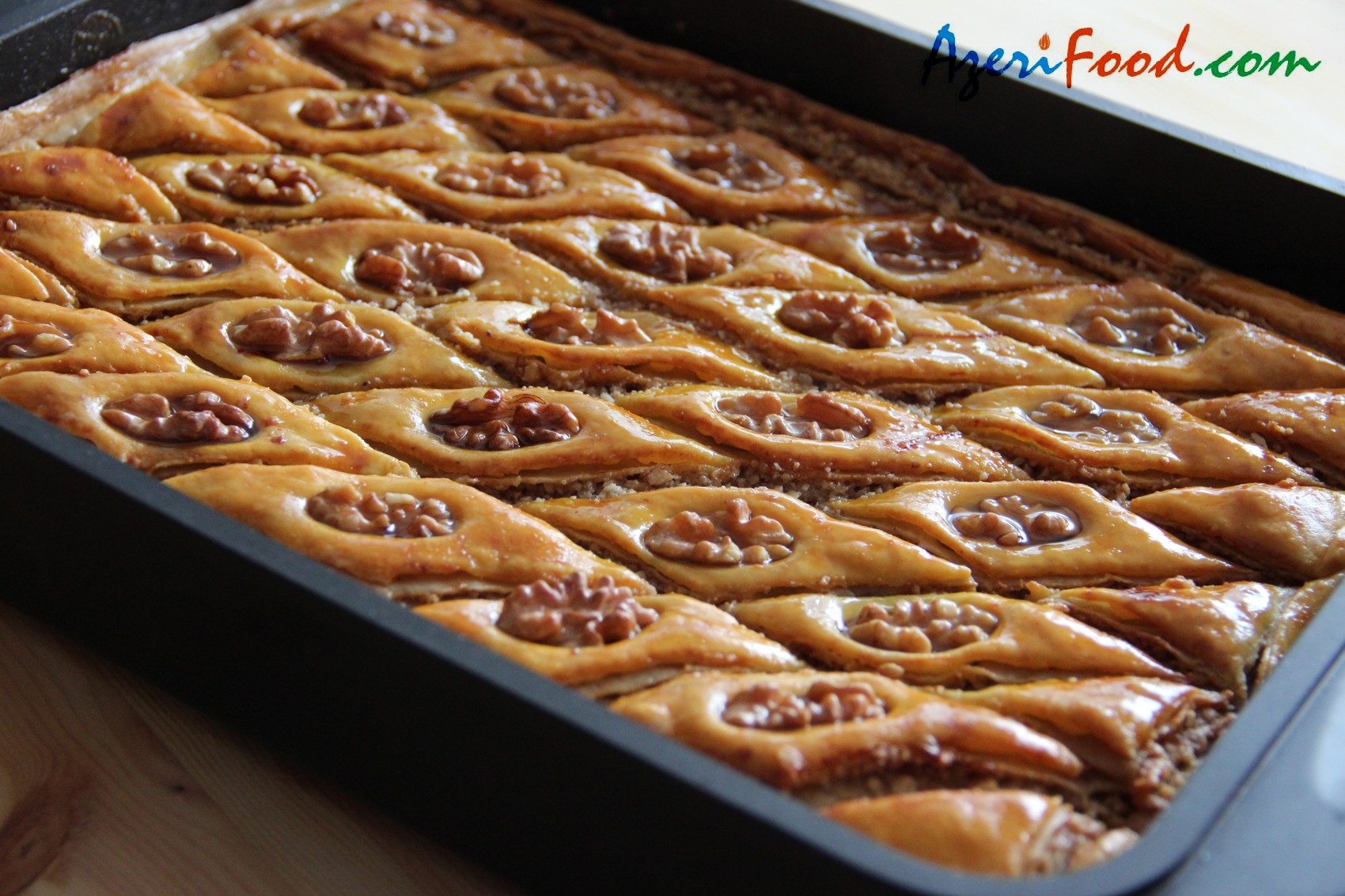 Bake at 200 degrees Celsius in the oven for 10 minutes. Take the base out and  pour melted butter, so it comes to all places in Paklava. Let the case back to oven and let it bake for 15-20 minutes.
Prepare the syrup. Boil the water, sugar and honey in a small saucepan. When it begins to boil add saffron threads in. Turn off the heat as soon as the syrup starts to boil. Added last the lemon juice.
When Paklava is golden, take it out and pour the syrup. Put it back into the oven and bake it  10 minutes more.
Paklava is ready. Await till it is a little bit cooled down and take each part of pakhlava out of the base and put it with "face down" on the plate. Let paklava cooled down. When Paklava completely cooled, turn it "face up" at original position and serve.
Nush Olsun! Enjoy your meal!