Kutabs, a version of pancakes, are an Azerbaijani national dish and can be made with meat, herbs or pumpkin. Today you can learn, how we in my family prepare  Kutabs of meat.
For the dough:
350 g wheat flour
200 ml watter
salt
For the filling:
500 minced lamb or 250 gr minced lamb and 250 gr minced beef
250 gr onion
Salt and pepper
12 g lavashana or tomato paste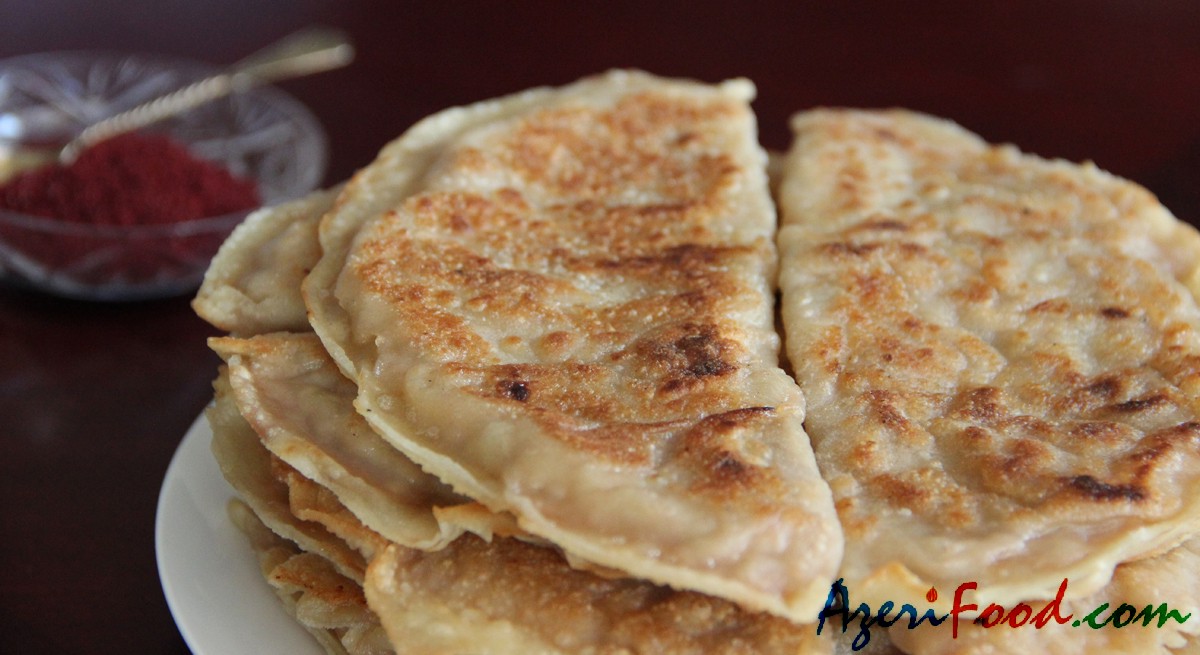 Soak the small piece of lavashana in water until it dissolves. It will dissolve more quickly in hot water. If you use tomato paste, so mix it also with a little bit watter.
Peel and chop the onion. Mix the minced meat with the chopped onion. Add salt and pepper and lavashana or tomato paste liquid. Set the mixture aside.
Mix the flour, water and salt to make dough. Separate the dough into 150 gram balls.
Place the dough balls on a tea towel and cover with clingfilm. Leave the balls to rest for 5-10 minutes.
Roll out the dough balls until they are 3 mm thick. Traditionally a thin, light rolling pin – ohlov is used. Use a small plate to shape the rolled-out dough into rounds approximately 20 cm in diameter.
Spread the mincemeat mixture thinly on one half of the dough round. Fold in half into a semi-circle, pressing the edges together.
Kutabs are traditionally cooked on a saj, a convex iron griddle. A large frying pan turned upside down can be an excellent substitute for a saj. But it is working only with gas stove. If you have electrical stove, use usual pan. Place two kutabs at a time on the hot pan. Traditionally kutabs are cooked without oil or butter. In our family we like to cook  kutabs in a little bit oil or butter (not much!). Turn over after 2-3 minutes or when the kutab begins to brown and cook on the other side.
If you didn't use oil or butter, when cooking, so spread the cooked kutabs with melted butter or melted clarified butter while still hot and place one on top of the other to serve.
Meat kutabs are often served with sumach, a red ground powder which has a zesty flavour.
Nush Olsun! Enjoy your meal!