Everyone must have tried cooked chicken. But not many have tried chicken cooked using the special method, i.e. under rice. Besides the ingredients you need for plov, you will need the following ingredients:
A whole chicken
100g raisins
2 medium size onions
Butter (could use oil instead)
salt to taste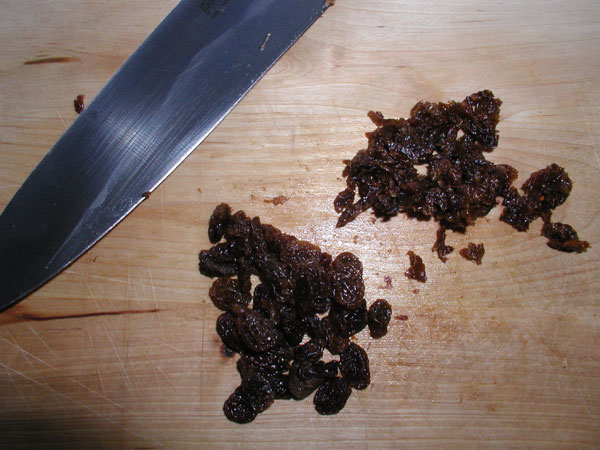 Wash the chicken, clean (from feather and other inedible parts), put in a pot and add water to almost cover the chicken (but not fully). Add salt to taste.  Bring to boil and reduce the heat to medium, remove the froth (skim), cover and half-cook it. It's important not to fully cook it, otherwise the chicken will 'fall off' from bones.
Dice the onions, add salt and cook till golden. Do not overcook as it will become hard. Soak the raisins in boiling hot water for 2 minutes, drain and dry. With knife, cut them in little pieces. Then mix with the fried onions.
Cut the edges of legs and wings from chicken – traditionally, they are not served as they do not look aesthetically nice. Stuff the chicken, through the whole in the chicken, the raisin and onion mixture. Put the chicken in a muslin cloth – this will help to keep the rice from sticking to the chicken. Put aside.
Cook the rice as described in the Plov recipe.
Put some butter in a pot, add lavash or Gazmakh (link?) and add the rice on top covering it all (about 2-2.5cm). Put the chicken in muslin on its backand add the remaining rice. Add more melted butter and 1/8 cup of boiled water. 
Put a kitchen towel around the lid of the pot, cover the pot and put on law heat to steam. Please note, normally saffron water is not added to Chicken plov. It also takes longer to steam this plov as compared to plov without rice. This rice requires a larger pot. When I cook Chicken plov, I always make plov in a different pot where I can add saffron water.
Once rice is ready to be served, put the rice that is on top of the chicken on a serving dish, add saffron rice to decorate. Take the chicken out, remove the muslin cloth. Serve together. The success is guaranteed. In addition to knife and fork, put a desert spoon on the table for the stuffing.
Traditionally, the rice underneath the chicken is not served to guests. But to be honest, this rice is very tasty as all the juices of the chicken covered it and cooked the rice.
Nush Olsun! Enjoy your meal!