Today I am going to present a recipe of one of Azerbaijani soups which is widely consumed in Baku area mainly. In general, dishes made with dough are mainly cooked in Baku and nearby villages. Today's soup is called Dushbara. It is my family's favourite soup, my children and I love it very much. The preparation and cooking of this soup is not quick and it takes a bit of time. Bet even though it takes long to make and is a bit difficult to make, it is so tasty that nothing can stop me from cooking dushbara often.
For the dough:
250-270 g flour (white)
1 egg
100 ml water
1 tsp salt
For the filling:
300 g mince (preferably a mix of lamb and beef mince)
150 g finely chopped onions
salt and pepper to taste
1 medium bunch of coriander
1 medium size tomato
2-3 garlic cloves
7-8 tbsp white wine vinegar
Mix the mince with the onion, add salt and pepper to taste. Then add finely chopped herb.
Add water, salt, egg to flour and make dough. The consistency of the dough shall be elastic but not sticking to the hands. The quantity of flour above is approximate. Start with 200 g and then add as needed. As mentioned, the dough shall be elastic and not stick to hands. There should be enough salt in the dough as it is important that the dough is not unleavened. Divide the dough into three parts. Put them on a towel and cover with a damp towel (so that it does not dry out). Leave for 5-10 minutes to rest/prove.
Take one part and, with the help of a rolling pin, roll out a very thin flatbread. You can add as much flour as you wish as it is not going to spoil the taste. However, only use it when dough starts to stick to hands, rolling pin or surface on which you roll out the dough.
The thickness of the flatbread shall be about 1mm.  One part can be rolled out into a flatbread with diameter of 50 cm. Cut the flatbread into small squares of 1.5×1.5 cm. Put a small amount of the prepared mince on each small square. In Baku, they like to make their food not only tasty but also aesthetically good looking. That's why the smaller the size of dushbara the prettier is the final result. I usually cut my quarters at 1×1 cm.
Now I am going to describe the easiest way to continue. Take a square with mince in the middle, fold it in half (mince shall not stick out or come out, must stay inside) and press the sides together. You should get a rectangle. Then take two edges of the rectangle, fold down and connect them.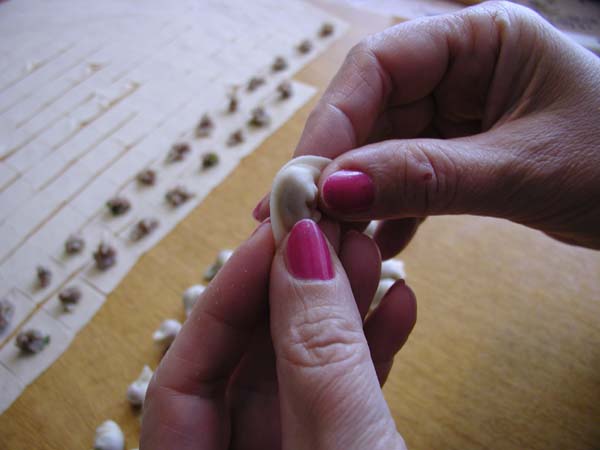 Once you've prepared the little dushbaras, put them all on a tray covered with a towel.
Pour water into a pot (2-2.5 litres), add salt to taste. Bring to boil. Strain the tomato through a grater. Once water is boiling, add tomato and allow to boil for a couple of minutes. Then add dushbara: lift them with the palms of your hands and carefully add into the water and stir.  Do it again and stir. And so on.
Don't leave the pot unattended. Regularly stir the soup. Check seasoning. The soup must not be bland. It must not have too much salt too. Cook for 15-20 minutes. Check on dushbara to make sure that the mince is cooked. Put some chopped coriander into the serving dish (tureen), pour in the soup and then add more coriander.
Mix garlic with vinegar. Serve with the soup. Pour some soup on a plate and add the garlic mixture to taste. I normally add 1.5-2 tsp into one portion.
The original recipe does not include tomato. Instead, before adding dushbara into the pot, turmeric is added. In some families, coriander is not added into the mince. In winter time, or if there is no fresh coriander in the house, it is good to add some dried mint instead.
Nush Olsun! Enjoy your meal!