A Tabriz meatball is an even larger version of the küfta. It is made with minced veal or lamb packed round a filling of hard-boiled egg and fruit.
Tabriz is an ethnically Azerbaijani city, capital of Iran's East Azerbaijan Province. The name küfta is derived from the Persian and "pounding", as traditionally the meat for the meatballs is pounded almost into a paste.
For the meatballs:
500 g minced meat (veal or lamb)
250 g chopped onion
75 g short-grain rice
125 g chickpeas
2 medium-sized potatoes
3 eggs
a few sprigs of parsley, coriander, dill
pinch of turmeric
salt & pepper
For the filling:
4 dried plums
3 medium-sized onion
2 eggs
8 half path of walnuts
For the bouillon:
1 can of chopped tomatoes (450 grams)
6 or so fresh greengages (can be excluded if no present)
2-3 pcs thin green chili pepper (can be excluded if no present) or half part of fresh green peppers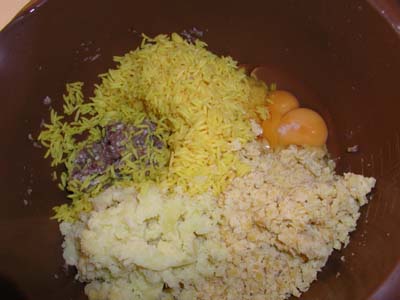 Peel and chop  onion and mix with the minced meat. Bring a large pan of lightly salted water to the boil. Add the rice with pinch of turmeric and cook at a fairly rapid boil for 10 minutes or so until almost cooked. Strain.
Rinse the split peas, bring to the boil in a large pan of water and simmer until cooked (approximately 20 minutes, depending on the split peas). Boil and mash the potatoes. Add the cooked rice, split peas and mashed potato to the minced meat. Add 3 raw eggs, salt & pepper, 1/2 teaspoon of turmeric and the chopped herbs. Mix well.
Knead the mixture by hand for 10-15 minutes until sticky. This is to prevent the meatball coming apart in the bouillon.
Hard boil the 2 other eggs. Shell and halve the eggs.
Peel and cut the other onion into rounds. Fry the onion in oil in a deep pan until golden. Remove 2/3 of the onions and set aside. Add the tin of tomatoes (450 grams) to the remaining onions in the pan. While the tomatoes are frying, divide the mince into 4 parts.
Take a portion of the mince mixture, and push a hard-boiled egg, some of the fried onion, dried plum and walnuts into the center. Shape the mixture into a ball. The dried plum can be substituted with dried pear or a fresh greengage.
Do the same with the three other meatballs.
Once the tomatoes are cooked, add water to the pot. Add fresh greengages, if in season, and roughly chopped fresh peppers or green chili, salt & pepper. Once the water has come to the boil, add the meatballs to the pot. When they have risen to the surface, cook for another 45 minutes over a moderate heat.
The meatballs and bouillon are served separately. The bouillon is eaten as a soup and the meatballs as a main dish.